Common Questions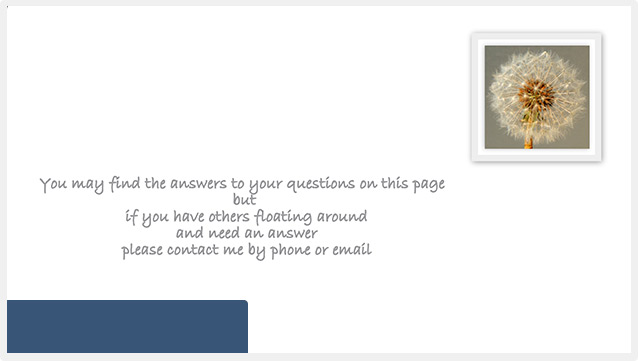 What Is Hypnosis?
Hypnosis happens naturally whenever a person either naturally 'switches off' – sometimes you miss part of a TV programme you are watching while your thoughts wander – this can also happen when you listen to specific relaxation techniques as well. It is a state of deep relaxation without being asleep. Hypnosis helps your mind relax and therefore opens it to ideas, helps with decision making and allows it to readjust previously learnt behaviours eg phobias. It can act to help you heal more rapidly by reducing stress and adrenaline, an added bonus is that a relaxed calm mind is often more creative and confident.
What Does Hypnosis Feel Like?
Most people describe it as extremely pleasant and deeply relaxing. The most common feelings reported include: deep relaxation, a tingly feeling, a feeling of heaviness or sensation of floating, a desire to swallow more, slight body twitches, eye fluttering, and a change in breathing pattern. Clients are often surprised they can hear and remember most of what is said during the session, this is normal. Most people are actually more (not less) aware of their surroundings while in hypnosis but very small number of people go so deeply into hypnosis that they feel as if they haven't heard anything – this is also normal.
Will I Lose Control?
Definitely not – you will be aware and if, for instance, a fire alarm went off you would just open your eyes and get up as normal.
What Can Hypnosis Be Used For?
Hypnosis can be used for virtually anything. The most common uses of hypnosis include:
Traumas and phobias
Reducing self harm behaviours
Stress reduction / improve sleep
Athletic enhancement - e.g. Improve your golf
Exam technique and confidence
Smoking cessation
Pregnancy and childbirth
Healthy dietary habits
IBS
Tourettes – reducing tics
Public speaking and presentations
Self confidence
Passing your driving test
Interview confidence - at university or work
Can Hypnobirthing Really Help Me In Labour?
Yes, it teaches you to understand the physiology of labour, deep breathing techniques and relaxation that allows self hypnotherapy, so that you remain calm and confident, this reduces adrenaline, increases endorphins and allows you to make clearer decisions that are appropriate for you at the time.
Do I Need To Inform My GP?
For many medical issues it is essential to work with your doctor and I need to know whether there is a reason we can't use hypnotherapy. It is important that you continue to take all medications you have been prescribed.
What Is EFT?
The technique involves tapping on various Meridian points whilst focusing on an emotional issue. A little bit like acupuncture without needles, it allows the body to deal with emotions that have been bottled up. You copy what the practitioner does – they tap on their own body and you tap on yours – it works very well for phobias and other unwanted emotions.
How Long Is A Session?
Usually the first session is between an hour and half and two hours. Subsequent sessions are usually 50 – 80 minutes long.
Do I Have To Do Anything To Make It Work?
Sometimes I give a tape to listen to every night – especially for IBS or sleep improvement – individual needs will be discussed in the sessions.
My Teenager Doesn't Want To See You Really But Has Agreed To Come Along...?
I am happy to with work this age group and it isn't necessary for them to worry about having to talk to me or having deep in-depth discussions – I have a variety of techniques I can offer and will only use what they are happy with. For instance we can use EFT, waking hypnotherapy, just relaxation techniques; solution focused drawing techniques or CBT and counselling. Once they have had the first meeting they are usually happy to return. My confidentiality is to them as the client and not you as the parent, though I encourage them to work with you at home in between sessions..